Well here we are.  Once again the time has come to sit down and talk about spring cleaning.  Yes I know, the snow is still out there on the ground and knowing Edmonton weather it will be falling out there for a while longer, and yes there is a minus sign in front of the temperature on the thermometer.  Still, the sun is shining, sometimes and slowly but surely the temperature is starting to warm up, so that mean it must be springtime, and with springtime comes spring cleaning.
 I know people who take their spring cleaning at home very seriously and can't wait to get it done.  They have a schedule that they try and adhere to and really don't like it when man or weather gets in the way.  But what about the office?  How often does your need to clean up in the springtime translate to the office, and when it does, it is often an afterthought that seems more like a chore than a renewal.  If your cleaning contractor can do the clean up for you that's great, but if not, and for most companies only the staff know what need to be changed out, and disposing of those things afterwards can be the most difficult part of the job.
Today I want to talk about how you dispose of those things that you decide to or need to get rid of when you start to clean.
Spring isn't only a time to clean it is a great time to renew.  Now is the time to change out all those old desk phones or mobile phones in the office.  Time to get rid of some of those old, worn and uncomfortable desk chairs.  Maybe it's time to throw out your old toaster, or blender or microwave from the staff kitchen.  In my office I have a box full of old cell phones that I have acquired over the years.  Somewhere in the back of the storage area is a couple of old monitors and computer towers we no longer need.  All of those things must be removed and disposed of, and hopefully it is done in the most responsible way possible.
So this spring, when you start any project, remember that we should make sure that all our garbage or unwanted items are disposed of properly.
All those old electronics that don't work anymore or are too old to use should be taken to one of the city's eco- center, along with just about anything else you want to clear out of the office or work yard.
Old wood, empty and not so empty paint tins, dead and mangled venetian blinds, sod, tree branches, electronics you name it the eco-center will take most of it.
The city run eco-centers are great, the cost to dump is minimal and they will take almost anything.  So before you try and put that stuff out on the curb and find out the garbage trucks won't pick it up, try the eco-center first.
Here is the link to their website, it tells you everything you need to know about the eco-center.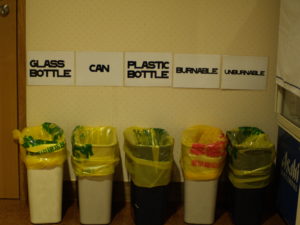 The other places to think of are the many charities in town.  I personally drop off just about everything I don't use anymore to the Salvation Army.  Old books, clothes, used furniture both residential and office, and appliances, they raise funds by selling them all in their Thrift stores.
Here is the link to find out about where you can donate to the Salvation Army Thrift stores.
If you want to donate to an organization other that the "Sally Ann", there are a ton of other places to donate all those items you no longer want.  The items will come in handy for people who might not otherwise be able to afford them new, and the money it generates will go to a lot of useful causes.
By the end of 2018 the City of Edmonton will have new rules about what and how we can dispose of waste.  So now starting to think about changing the way you dispose of the waste you generate is a must!
Whether its old junk you want to throw out, or items you can't use any longer but may be useful to someone else, think about how you intend to dispose of all those things you clean up this spring.